Derek Schmidt announces campaign for governor
TOPEKA – (March 9, 2021) – Saying "Kansans deserve so much better," Attorney General Derek Schmidt today announced he is running for governor in 2022.

"Today I'm announcing my campaign for governor with a mission to be your common sense, conservative voice and to fight every day for your family and our way of life," Schmidt said in an online video announcing his campaign.

Schmidt said Kansas voters deserve a Republican governor who moves the state forward, not back, and leaves stale and unproductive fights behind. He criticized the Kelly administration for mismanagement – losing hundreds of millions of tax dollars to unemployment fraudsters while Kansans in need wait for months, insisting on vaccinating healthy young prisoners before high-risk law-abiding seniors, and ordering local businesses, schools and churches closed instead of trusting Kansans.

"Governor Kelly's administration keeps disappointing," Schmidt said in the video. He added, "We can do better."

In the 10 years since Schmidt left the legislature, the state budget has exploded at an unsustainable pace from less than $15 billion to more than $21 billion and he criticized "mortgaging our future" in order to "spend more now."

Schmidt said if elected governor he would focus on making Kansas a state where hard work is rewarded, where the question is how to grow Kansas and not government, and where the state operates efficiently and effectively. He said that requires confronting head on our most difficult problems and disagreements.

"I believe in a bright Kansas future, with a climate of opportunity that grows our state and encourages our children to stay in Kansas and pursue their dreams," he said in the video. "As your governor, I'll fight every day to leave Kansas a better place than I found it, for my family and for yours. Together, we can make it happen."

Learn more and view the video at www.SchmidtForKansas.com.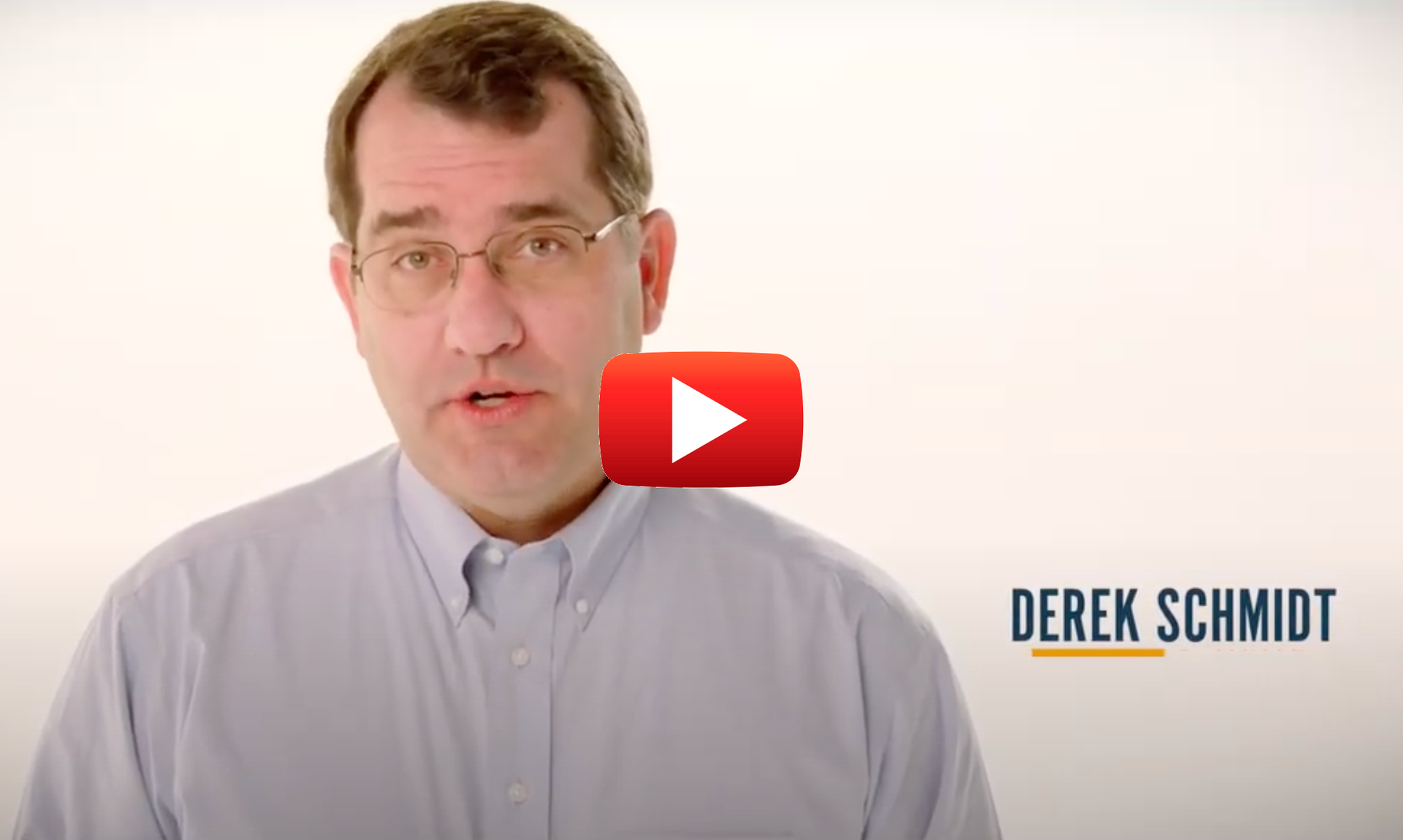 ###

A fifth-generation Kansan whose ancestors settled in Kansas after fighting for the Union Army in the Civil War, Schmidt was raised in Independence. Generations of his family were metalworkers and farmers, teachers and miners, and small business owners. His parents were the first in their families to graduate from college.

In 2010, Schmidt defeated an incumbent Democrat to be elected Kansas Attorney General and has been reelected twice; in 2018, he received more votes than any other candidate for attorney general in Kansas history. Before that, he represented Southeast Kansas for 10 years in the State Senate, where he served as chairman of the Senate Agriculture Committee and later as the Republican majority leader. In total, he has won 12 public elections and two legislative leadership elections in Kansas – and never lost.

As attorney general, Schmidt has focused on combating elder abuse, fighting human trafficking, strengthening the prosecution of crimes against children, and fixing difficult problems that long were ignored like the need to build a modern, efficient forensic science laboratory for the Kansas Bureau of Investigation. He was elected by his peers nationwide to serve as president of the National Association of Attorneys General and was named the nation's Outstanding Attorney General in 2019.

When President Obama's administration overreached in regulating Kansas farmers, ranchers, and small businesses, Schmidt fought back in court – and won. He defended President Trump's America First policies that grew jobs, promoted freedom and made our economy strong. He is undefeated in three cases he personally argued for Kansas before the U.S. Supreme Court.

Schmidt currently is suing President Biden for trying to implement the Green New Deal by executive order and has put the Biden administration on notice that it should reconsider its decisions to cancel the Keystone XL pipeline and to end a program that deports illegal alien sex offenders.

Schmidt's work for Kansas has been recognized with numerous awards, including the Criminal Justice Professional of the Year Award from the Wichita Crime Commission, the Distinguished Service to Children Award from the Kansas Children's Service League, and the Guardian of Small Business Award from the Kansas chapter of the National Federation of Independent Businesses.

Derek and Jennifer Schmidt are the parents of two daughters.
###