Former KFB President Steve Baccus endorses Derek Schmidt for Governor
TOPEKA – (April 28, 2021) – Steve Baccus, the immediate past President of Kansas Farm Bureau, announced his personal endorsement of Attorney General Derek Schmidt for Governor of Kansas on Wednesday.
"Today, I'm proud to announce my endorsement of Derek Schmidt for the next Governor of Kansas. Our rural communities need someone in Topeka who will keep their priorities at the forefront of his work, and I am confident Derek is the best person for the job.
"Over the years I have worked with some of our state's strongest and most-effective voices for rural Kansas – respected conservative leaders like Bob Dole, Pat Roberts, Jerry Moran and of course Derek Schmidt. I will be the first to tell you that because of my many years of knowing and working with Derek, I know he is the proven WINNER that Kansas needs right here, right now.
"As the former President of Kansas Farm Bureau, I know firsthand that agriculture is the lifeblood of our great state. That's why we need a trusted leader like Derek Schmidt who understands our values and our way of life.
"While serving as Attorney General, Derek has always had the back of farmers and ranchers. He pushed back against illegal federal regulations like the Waters of the United States (WOTUS) rule – and he won. Derek has always fought to ensure that Kansas agriculture can thrive without unconstitutional interference from Washington bureaucrats. He was a trusted leader for agriculture when he served as Chairman of the Kansas Senate Agriculture Committee. I know that as Governor, Derek will always stand up for our rural communities.
"This is going to be a tough fight, but Kansas farmers and ranchers are counting on us to help elect Derek Schmidt to the governor's office."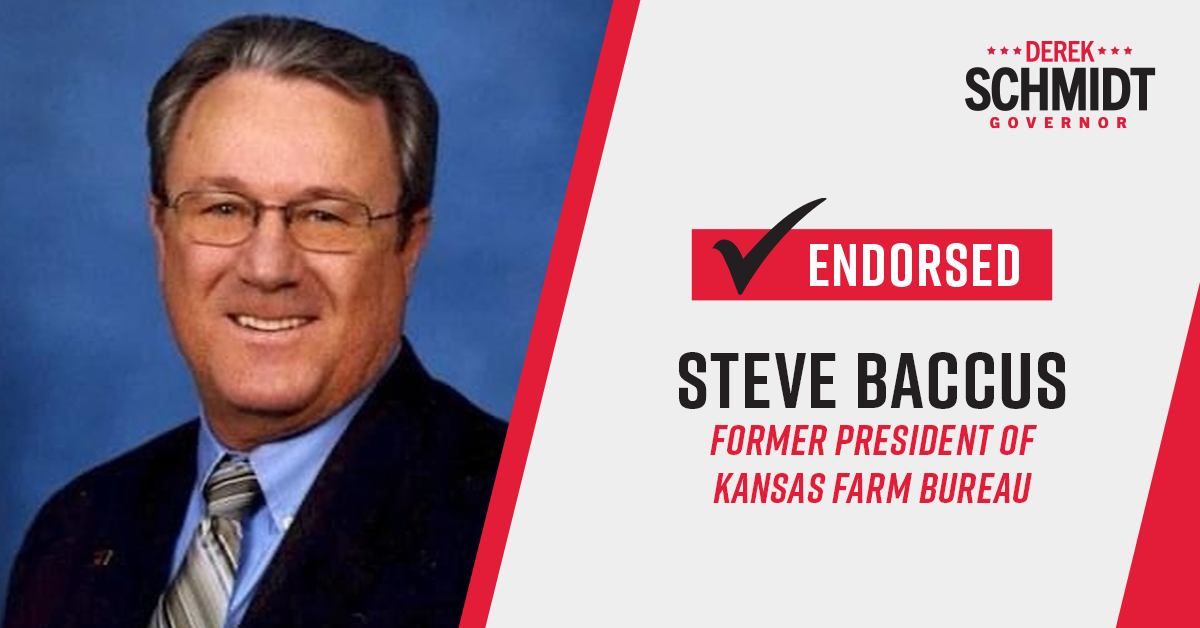 ###
A fifth-generation Kansan whose ancestors settled in Kansas after fighting for the Union Army in the Civil War, Schmidt was raised in Independence. Generations of his family were metalworkers and farmers, teachers and miners, and small business owners. His parents were the first in their families to graduate from college.
In 2010, Schmidt defeated an incumbent Democrat to be elected Kansas Attorney General and has been reelected twice; in 2018, he received more votes than any other candidate for attorney general in Kansas history. Before that, he represented Southeast Kansas for 10 years in the State Senate, where he served as chairman of the Senate Agriculture Committee and later as the Republican majority leader. In total, he has won 12 public elections and two legislative leadership elections in Kansas – and never lost.
As attorney general, Schmidt has focused on combating elder abuse, fighting human trafficking, strengthening the prosecution of crimes against children, and fixing difficult problems that long were ignored like the need to build a modern, efficient forensic science laboratory for the Kansas Bureau of Investigation. He was elected by his peers nationwide to serve as president of the National Association of Attorneys General and was named the nation's Outstanding Attorney General in 2019.
When President Obama's administration overreached in regulating Kansas farmers, ranchers, and small businesses, Schmidt fought back in court – and won. He defended President Trump's America First policies that grew jobs, promoted freedom and made our economy strong. He is undefeated in three cases he personally argued for Kansas before the U.S. Supreme Court.
Schmidt currently is suing the President Biden for trying to implement the Green New Deal by executive order and has put the Biden administration on notice that it should reconsider its decisions to cancel the Keystone XL pipeline and to end a program that deports illegal alien sex offenders.
Schmidt's work for Kansas has been recognized with numerous awards, including the Criminal Justice Professional of the Year Award from the Wichita Crime Commission, the Distinguished Service to Children Award from the Kansas Children's Service League, and the Guardian of Small Business Award from the Kansas chapter of the National Federation of Independent Businesses.
Derek and Jennifer Schmidt are the parents of two daughters.
###